Project X180
aka AssignmentTracker X

View Feedback on AssignmentTracker X Give Feedback on AssignmentTracker X
What is project X180 or as it will be known to end-users "AssignmentTracker X" ? It is in the early stage of design but basically it is a Assignment & Grade Tracking Application designed just for Mac OS X. So far the things I intend to allow you to be able to do with ATX are:
View Assignments for All Classes/Courses you are taking
View information relating to a class you are taking and your grade based on info entered into ATX
Edit attributes of info relating to specific assignments (like how much you've completed of a major project)
Enter grades of completed assignments
Alert you to when assignments need to be started to work on or turned in
Provide time till an assignment is due
View the type of assignment (paper, presentation, etc) and edit info based on that assignment type
Provide many preferences for you to tweak with and customize AssignmentTracker X to your needs
Enter into ATX the percentages for what quizes,tests & homework make up of your grade (for ex quizes make up 10%, tests %15, etc.)
Calculate your GPA for each Term/Semester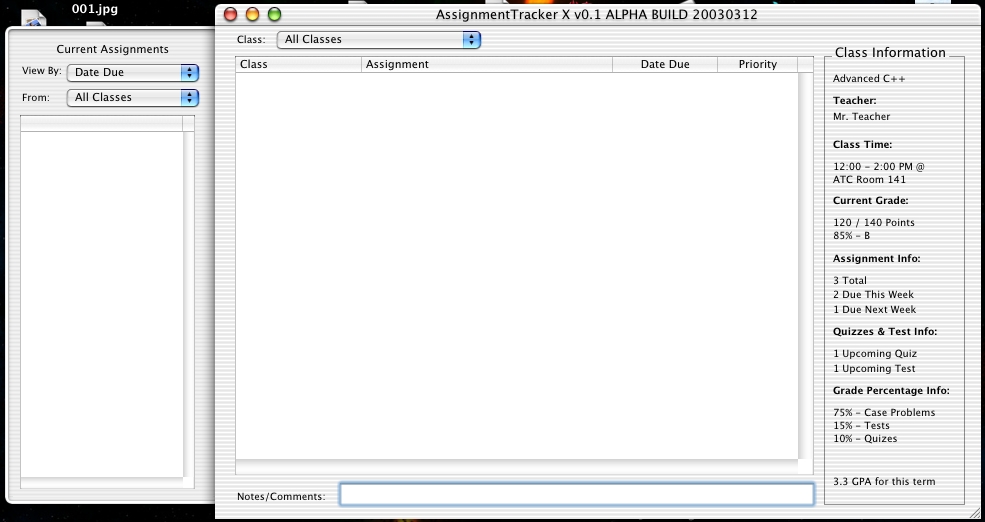 AssignmentTracker X is in the early stage of development. So far I am mainly tweaking with the interface and trying to make it so this application is advanced in it's capabilities, but still easy to use to the average Mac OS X user out there. Im going to try to make a daily (or at least every other day) log of how the project is progressing below.
X180 Log:
Sometime between the late/early hours of March 5 - 6 : Idea Concept of ATX conceived : basic features conceived
March 6 : Initial main interface is designed & tweaked with
March 7 : The idea for ATX is presented to other students using Mac OS X - The project is praised and the wish for the project to go forth was given to me by several people including my own parents amazingly
March 8 : I tweaked with the main interface design and made some minor changes
March 9 : I set up this website for ATX - It's simple for now, but i'll add more later - Started looking into how i'd connect all the components for ATX and how i'd load and save data - i think i'm going with NSMutableDictionary for the main table of the ATX design - I will load the picture of the tweaked Main window later on
March 10-11: I've found an example in one of my Mac OS X Programming books that will help greatly with the project - forget the NSMutableDictionary thing - I hope to have the code for the table section of ATX done by the end of today (11th) and most of the GradeSheet class done which will house all the info about each assignment.
March 12: I refreshed my memory by going through a tutorial that i had previously gone through to learn how to work with NSTableView and to save & open data from a file to the table. The main nib file is nearly complete and I have started on the inspector windows (windows that bring up specific info about a assignment.) I am getting nearly complete with the Data Source Object and the GradeSheet class for ATX. Work is progressing along nicely. This weekend I will probably try and organize this page and do a total re-design and give it the organization and nice look it deserves.
March 18: Sorry about the delay. Good news though some basic functions of ATX are working and I have produced a clean working build. Whats being worked out now is how every user will enter assignments, edit them & organize the assignments. I am looking through more and more documentation and seeking help from other developers in an effort to produce a app that does most of the work for you. I have redesigned this site, but have not uploaded it yet because I've been busy with assignments for my current classes. I can't wait to put out the 1.0 version of this project because, quite frankly, i could use it myself.
ATTENTION! I realize that this may be early, but I'd like to see if I can get someone to design some of the icons for AssignmentTracker X. I can always update them later on if I get better ones. Below is a list of some of the icons needed:
AssignmentTracker X (icon for program & will show up in the dock)
Class Info
New Assignment
Assignment Info
Grade in Class or Class Grade
Assignment Progress
Notes
Show/Hide Drawer
Delete Assignment

I cannot guarantee I will use all of the listed icons, but as of right now I have the intention of putting these functions in.
AssignmentTracker X v0.1 ALPHA BUILD
Copyright (C) 2003 Colin Wheeler
This program is free software; you can redistribute it and/or modify it under the terms of the GNU General Public License as published by the Free Software Foundation; either version 2 of the License, or (at your option) any later version.
This program is distributed in the hope that it will be useful, but WITHOUT ANY WARRANTY; without even the implied warranty of MERCHANTABILITY or FITNESS FOR A PARTICULAR PURPOSE. See the GNU General Public License for more details.
You should have received a copy of the GNU General Public License along with this program; if not, write to the Free Software Foundation, Inc., 59 Temple Place, Suite 330, Boston, MA 02111-1307 USA